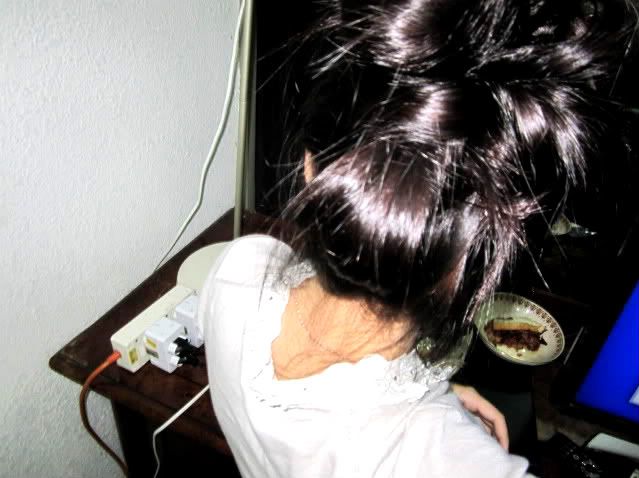 Had to stay back for chem test, and anyway baby went ta work so nvm.
I got this whole chunk and load of clothes i haven worn. mostly skirts and stuff.
And three of it is leopard prints. LOL! Overloaded.
But in the first place i didnt meant to buy it for myself to wear.
Supposedly wanted to sell it off.
Cause that period i was thinking 24/7 about blogshops and fleas and more blogshops..
I got them at a really good deal lesser than what you expect! When it's worth much more.
Anyway new issue of 17's out!! (:
Kekekeke.
Anyway i wore glasses practically the whole day.
Need to get my lenses VERY soon.. lest wearing one side only to work.
Anyone knows where to get ONLY a month's worth of lenses, diff degrees both sides?
Lesser than $15. NEED TO KNOW ASAP!
Hahhah. Alot ppl were very shocked to know that my degree is 300L 400+R
However,sometimes it goes down and up.
Like last time i checked, my left was 200+. but my right never goes down);
Yep, and have been wearing lenses since pri sch. So you guys dont know my history with glasses.
(: Who here purposely squinted your eyes so you can get glasses?
Well, i did. That time i thought it was cool. -.- SO REGRET.
The "coolness" lasted for 2 years.
OMG YOU KNOW.
Today i took out my necklace from bb cause i scared i would get caught during assembly.
Put it on top of my bag...went for classes.
During recess, I REALISED I LEFT IT BEHIND.
Forgotten all about it ! Just picked up my bag and walked to class..
Anwy i searched the whole parade sq couldnt find it.
Panicked (particularly cause i think it cost alot and it's 2nd yr prezz AND bb would kill me if i rlly lost it)
Went canteen told xx, th,by lydia what happened..
THEY SO SWEET CAN, pei me go find with me, in the end found it at parade sq.
Super shiny and glittery in the sunlight... argh.
DONT SCARE ME LIKE THAT CAN ANOT!!
Hehehee. kay dont be naggy already,
Have a happy evening everyone!!