Will miss all those noisy horny fuckers that wont be following us up.LOVE ALL OF YOU :D 3n2:)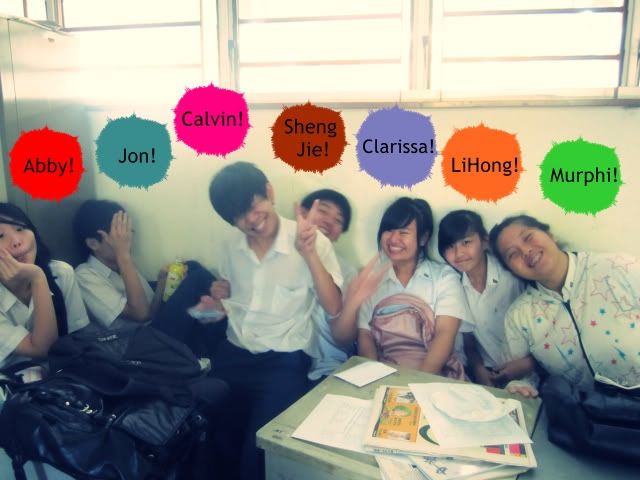 Took whole lotta pix today. No. VIDEOS.
Came in at recess and as expected class havoc!~
After school went tpy. Acc class peeps.
Me and clarissa was like obsessing over hair colours and all.
I sound like i'm obsessed with hair in my blog!!!!
Continuation about N's and O's.
Really wanna push everyone to Sec 5.
Lol. You guys must think im crazy. Sec 3 haven over, think about sec 5.
But this kinda things must plan ahead.
I guess usual last minute studying wont work next year.
Much less for O levels.
Why go ite when you have the ability for o's?
I really regret erasing the correct answers and writing wrong answers for PSLE.
Thats why i'm in NA.
But if i can relax in NA and still do well for N and especially for O's i don't mind just bacause i learn from my mistake.
Learnt it the hard way by wasting a year.
I think those people who have the ability to study well,
but slacken just because of influences around them and wanting to be in the "cool crowd" by getting bad results,
ARE. JUST. PLAIN. DUMB.
AND those who can do it, but scared they waste their time and fail, thus deciding not to it,
ALSO DAMN DUMB.
Why no confidence in yourself? Why don't you think of your future?
JUST DONT GET IT.
Getting too mature for my age.
I wish i had a more innocent, simple and noncomplicated mind. Seriously.
Then i can stop thinking about stuffs people my age dont think about
all the time.
Anyweay. Stop my stupid preaching. Gonna watch Fairy Tail.
JURONG BIRD PARK TOMORROW. LAST DAY OF 2010 WITH PRECIOUS CLASS . <3