I LOVE KOREAN FLIP PHONES.
I've lost my phone since the day i went to drink with yx and co.....
In the process i lost my fakies, my phone and my macspicy. IMAGINE THAT.
How? I don't know how also.
Then i've been using his phone.. which is the same model as my phone for pass few months.
Cause he doesn't top up his phone and he doesn't want to pay his phone bills. Figures.
Which i recently returned(threw) on Friday.
Then i've been watching all these korean dramas correct?
And in Playful Kiss and You're Beautiful, They all used flip phones!
Like the whole cast, using the same phone. But all different colours.
I did a little research.... And they were using this phone(for PK) .
Endorsed by 2PM.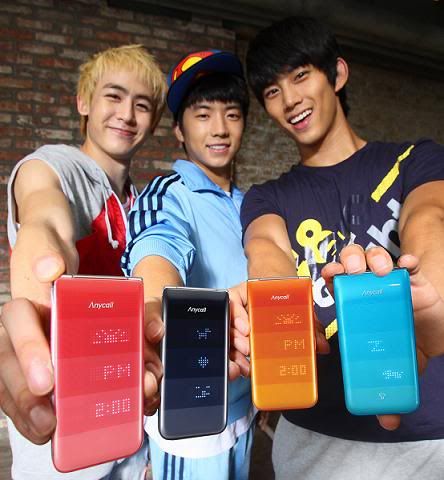 And so... all the phones reminded me of LG Lollipop.
Which came out in Singapore. before. this year or last year?
Anyway it looks like this if you dont know.. -
ON THE WAY OF SEARCHING LOLLIPOP,
I FOUND MY LOVE PHONE......
This is Lollipop 2. I WANT THIS PHONE SO BAD.
It's soooooooo CHIO LAH. AWESOMELY CHIOOOO.
AND THE COLOURS LIKEA SWEET ONLY!
Endorsed by Big Banggggggggggg.
BUT SADLY.
Its prolly not coming out in Spore...
Cause korean does not use sim card, so if they wanna release it in spore,
they have to tweak the phone so that it can carry sim card...
Stupid la. This country.No anything.
I wanna migrate to korea and get that phone!!!!
I dont know what phone to get ;/
Should i get lollipop? (I SO WISH 2 WOULD COME OUT)
Someone buy for meeeeeeee WAHAHAHA. HYA HYA HYA.