Same old routine.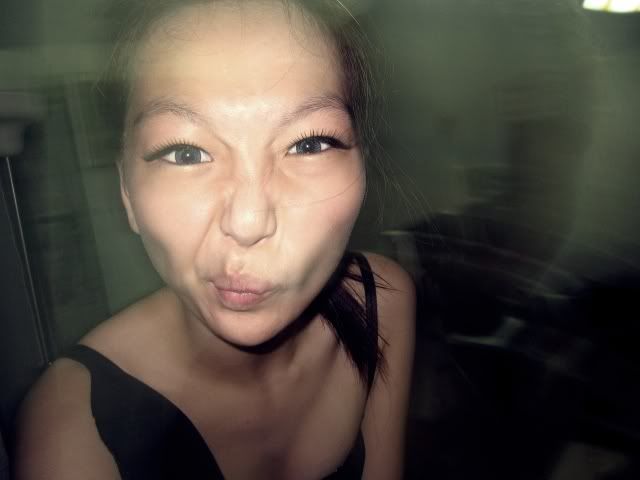 AHHHHHHHH so tired!
Yesterday left house about 8pm?
Went to meet Reiko and took a cab over to ph.
We were like hyperventilating on the bridge over from Vivo!
LOL. For some stupid reasons lor! And she was finally around my height.
Her heels were killers.
With reiko, billy, tingshiuan, ben, zhong for the night..
B and R left first, around 3 the event ended, z went off.
then w ts and ben. blablabla i reach home about 8am. Woke up around 430:@
Talked with two of them like i know their love story all already! As in each of them. Not tgt. LOL.
HAHAHAHA. Hope you two the best<3
For part of night, around after event end i was feeling so UGH. cus i didnt eat the whole day. and just smoking and smoking and dancing and dancing. So yeah. Reminder to self to eat lunch at least before gg another time. But somehow dont like to make it often. Dont like the feeling of sun rising and still outside of home? Home sick! No lah. Just dont feel..good? And im not a morning person. So atleast sleep over at friend's house can wake up at noon and bathe and all.
Aftermath would always be sticky tired hungry and leg pain!
PLUS I SPENT ALOT AS USUAL . like $50+.
(Maybe to some of you guys not alot la, but think of it, 50 can do alot things y'knw.)
15 cab 20+ tix 10+ cigg... oh i finally ate at 6 am. and it was a cheap meal.
i dont know where the rest of the $$ went. imagine you eat mac or what! confirm spend more than $50 one.
So yeah & cigg is because of someone that made me feel whatever that i bought it in the noon.
cab is like a necessity. Can try but ohwell. Dont know.
AND I THINK MY CAM "SPOIL" FOR NIGHTSHOTS JUST FOR YTD ONLY.
I dont know whyyyyyyyyyyyyyyyyyyyy i tried to use the usual night snapshot to creat those lights effect and this time i couldnt!!! like why the fuck why!!!? could always do it. even change to slow synchro still cant. -'-
and it's only for ytd!! i tried it today and it worked! pfffffffffffffft.
Taking my time to upload photos. I cant be botherd to upload all to pb now. so slowwww omg.
oh and after i upload on blog then i upload on fb. BLOG FIRST PRIORITY!!!:)